| | | |
| --- | --- | --- |
| | | |
| | | |
Lotus Sametime™ is the most successful corporate instant messaging (IM) tool in the world. Without a doubt, IBM has the definitive lead based on the maturity, robustness and - perhaps most critically - security of Sametime. With the growth and acceptance of corporate IM as a means of doing business, the conversations among parties over Sametime become a central part of the business process. In fact, they have reached the level of importance of email and other corporate records.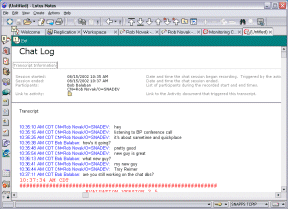 In addition, the knowledge of the workforce is often encapsulated in IM conversations, yet for some reason we let them disappear - records, knowledge, and all - the instant the Sametime session is closed. SnappShot for Sametime solves this problem, capturing IM sessions in the most secure, robust manner possible. By recording and securing IM sessions, SnappShot maintains the history your firm needs for legal and records purposes, and instantly provides you with another critical resource for mining the knowledge already present in your organization.

Co-developed by Looseleaf Software, Inc. and SNAPPS, SnappShot™ provides key benefits, making it the most secure and configurable solution for capturing Sametime sessions.



For more information, please contact MartinScott Support
Features

Securely records Sametime chats in a Domino database
Configurable recording trigger settings - by date range or user name(s)
Robust security settings for transcripts
Strong encryption options
Secure email of transcripts to designated address(es) including databases
Transcript databases are indexed and searchable, subject to full Domino access control and security
Benefits

Knowledge capture and searchability
Audit trails for IM corporate transactions
Security of corporate IM assets
Integration with Knowledge Management systems
Zero footprint on the IM workstation
Screenshots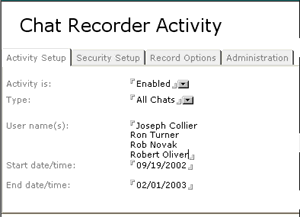 Establish whose chats get logged, and optionally during what periods.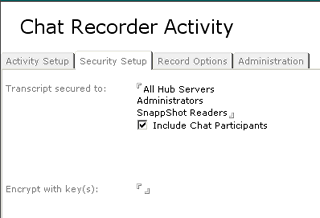 Optionally, uses Lotus Domino Directory groups and encryption for security.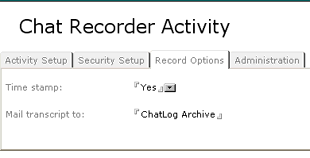 Transcript can be mailed to an archive or to another messaging "vault" for permanent safekeeping.

All logged chats are sortable in standard Domino views for browser or Notes client access.
Views can be customized to show a summary of any information.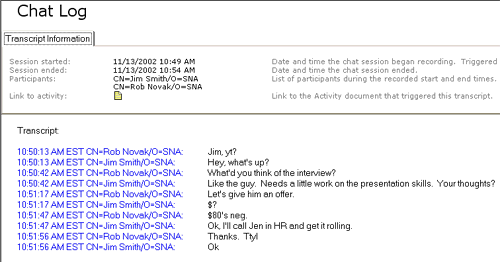 Chat log details the entire transcript.