Franziska Tanner
July 7 2009 09:52:03 AM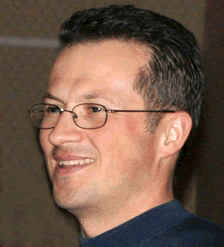 1. Daryl, what do you do for a living? How long have you been doing it? And what's the most rewarding part about your job?
As a Partner at MartinScott, I spend time in development, both business and applications. As an application developer, I've done most things under the Notes/Domino banner and am equally experienced working with Notes Clients and Web browsers. I've been working in technology since 1992 and with MartinScott Consulting since 1996.

2. What has your experience with social media such as blogs, LinkedIn and Twitter been like?
Admittedly, I've been slow to embrace the social technologies. I am on skype as mscdaryl but this will be my first blog and am excited that I get to participate with such quality people.

3. Lol, thanks. So if your fairy godmother visited you and offered to grant you any wish, what would it be?
If I was granted one wish, it would be to be a better husband & father. Career success is nice, material things are ok, but my family is most important.


4. What's one piece of advice you would share with someone just getting started in your field or technology?
I would advise them of the age-old adage, "Do what you love, and you'll never work a day in your life."
5. You'll be blogging on MSG as well, but how do you want our readers to contact you?
Email at drochette@martinscott.com or phone at 206.866.5290 is most effective, the above listed skype works as well.