Franziska Tanner
December 16 2009 08:47:07 AM
For those joining the mass-geek-migration to Orlando in January to attend Lotusphere 2010, MartinScott is thrilled to present you with five opportunities to meet/see/chat with us!
1. First up is Franziska Tanner as she presents a JumpStart session in the brand new
Admin Boot Camp Track
with Marie Scott and Gabriella Davis where they present:
BOOT103: Running with Scissors: Sharpen Your Skills for a Pain-free IBM Lotus Domino 8.5 Upgrade
Client and server upgrades to Lotus Domino 8.5 don't have to sting! Join us as we share our cutting-edge techniques for a successful upgrade - beginning to end. In this session, we'll snip through proven methods for your client upgrade with the pros and cons of basic or standard clients; building smarter SmartUpgrade kits; and managing strategically implemented policies. But our shears won't stop there as we cut thru the most efficient steps for upgrading your servers and your Lotus Domino Directory; leveraging your servers to take advantage of Lotus Domino 8.5 performance improvements; and time and space savings via DAOS and ID Vault! You'll walk away with your own ever-sharp skill set for your most comprehensive, and pain-free upgrade yet.
2. For those that will have missed it the first time around, there are plans to repeat
BOOT103: Running with Scissors: Sharpen Your Skills for a Pain-free IBM Lotus Domino 8.5 Upgrade
, both sessions on Sunday.
3. If you work with developers or are just looking to improve your release management skills, come watch Jamie Magee as he presents with Eileen Fitzgerald:
BP111: Heel! Sit! Code! Obedience/Compliance Training for Your Developers
Does your Lotus Domino environment feel like an untamed area with "packs" of developers running around unchecked? Admins, get control of your "dog eat dog" environment using ITIL (Information Technology Infrastructure Library) Release Management processes. ITIL Release Management ensures that you deliver applications into production that meet business requirements in a timely and efficient manner. It may also reduce friction between your admins and developers, and reduce the body count when developers want to introduce something into production.
4. For admins who inherited their server environment or are trying to make sure everything stays functional, join Franziska Tanner as she again presents with Marie Scott and Gabriella Davis:
BP103: "Top Chefs" Share Recipes for Avoiding Everyday Server Disasters
Do you have the right recipe for securing and performance tuning your servers? Are you dealing with mail fidelity issues, routing or replication bottlenecks? And if you're got all that right, how about ACL's, ECL's, policies and client management? Come watch three seasoned chefs resolve real-world scenarios that could otherwise spell disaster if allowed to flare-up in your domain. Demystify transaction logging and get great tips on managing ids, preventative server maintenance, essential Notes.ini settings and must-have monitoring tools. Whether you're a "Top Chef" or a "Swedish Chef", you won't want to miss this smorgasbord of a session, full of solutions you can take home and use.
5. Last but not least, MartinScott will once again be represented on the Showcase Floor, this time at pedestal 327 (see location below). We'll be showing our newly updated NoteMan Toolbar, WirelessMail, Panagenda MarvelClient, Panagenda greenLight, and our yearly giveaway! And drop by early to get your limited edition C.U.L.T. (Certified Unofficial Lotusphere T-shirt) shirt! We'll also again be offering "15 minutes with our Experts" for you to discuss your business problems, get a second opinion, or just do a sanity check in the areas of application development, client management, upgrades to 8.5, server architecture, education and anything in between.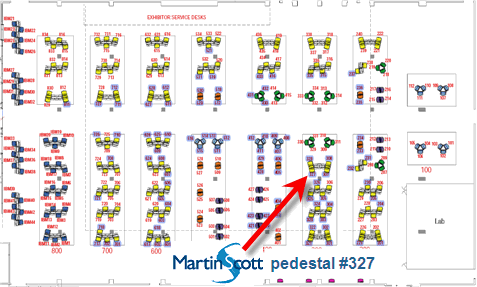 Keep your eyes on the
schedule site
and of course this blog for exact times, once the schedule gets published.
Hope to see you at Lotusphere 2010!